HOW THE FATSTRIPPA GREASE TRAPS WORKS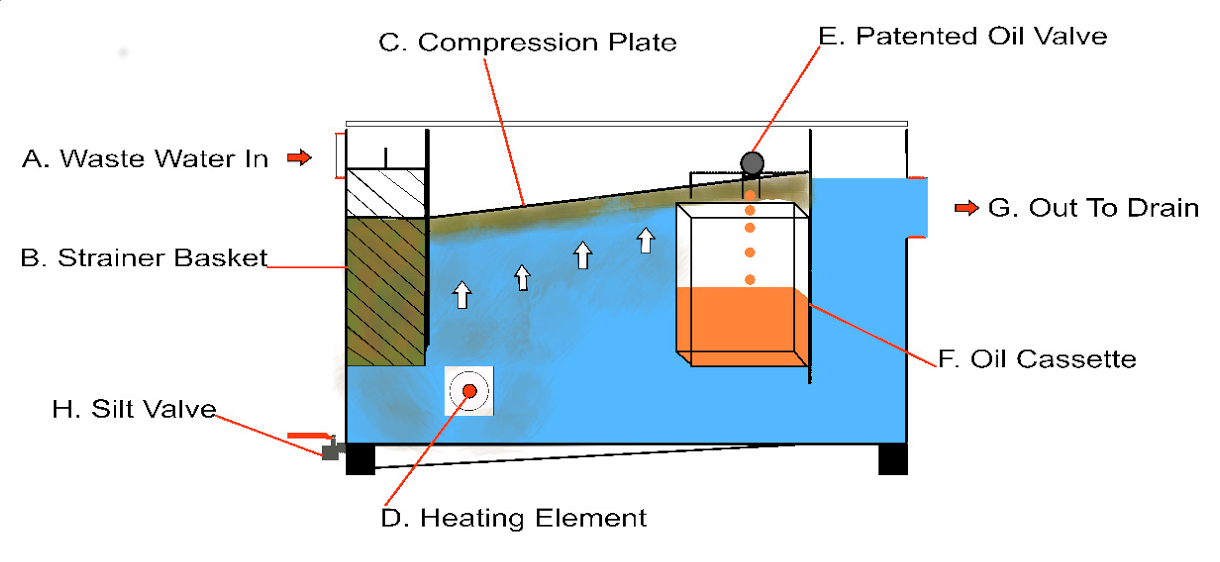 (A) Waste water contaminated with F.O.G (fats, oils and grease) flows in through the inlet of the Fatstrippa Grease Traps.
(B) Small food particals are trapped in the stainless steel basket as the water passes under the first weir into the seperation chamber.
(C) The F.O.G rises up to the compression plate as it is lighter than water.
(D) The heating element helps the oil to seperate from the fine particals and rise up.
(E) Because the compression plate is angled up, this will encourage the oil to travel up to the patented oil valve . This oil valve only allows oil to pass through and will close when it detects water.
(F) The oil then passes into an oil cassette, which can be stored for collection by an oil supplier. This is a continuous, automatic and non mechanical process.
(G) The oil that is recovered is 99.6% pure. The water is now free of F.O.G content and leaves the unit through outlet G entering the drains without threat of blockage, and more importantly, compilant.
The benefits of using the Fatstrippa Grease Traps G.R.U Unit
No need for costly chemical dosing.
Different sizes to suit your requirements.
Manufactured in Ireland so less lead time.
Compliant with council regulations.
Lifetime guarantee on the Fatstrippa Grease Traps units.
Investment returned on average 2-3 years.
No other hidden costs.
T&C apply, please contact for further details.
No more ongoing Grease trap maintenance.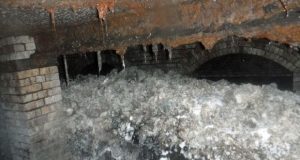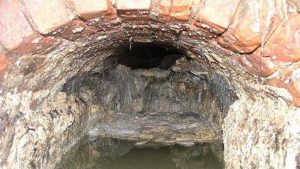 This is what a fatberg looks like.It is a build up of fats ,oils and grease
and other waste in the underground drains and represents real a real
cost as the Government has a polluter pays policy.This money is paid
when you get your trade effluent licence.Depending on the Grease trap
you have and your particular set up, you are put into a risk category
and the cost of your licence in reflected as such,
EXHIBITION FATSTRIPPA AT SHOW – VIDEO
FATSTRIPPA F/S 50 UNIT CLOSE UP VIDEO
The F/S 50 Unit will cater for one utensil wash sink or/ wok station/ combi oven.